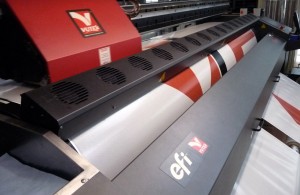 At Chromalink, we know how much colour matters to our clients. The right colour can make the difference between a job well done and a job completely un-done. In the case of the colour that could be called HSBC Red, there was a hard lesson to be learned by one company that forgot the value of its history.
HSBC was incorporated in 1865 as the Hong Kong and Shanghai Banking Corporation by an entrepreneurial Scotsman, Thomas Sutherland. While now based in London and tagged as "The World's Local Bank", back in the 1800s HSBC was only a local bank, one of hundreds trying to secure clients in a developing market. Given its Scottish rectitude, the bank's first flag was a variation of the St. Andrews' cross with red and white diamonds. But even Sutherland knew the strong value of red to China – traditionally, it represented joy and prosperity. In China, red is an auspicious colour. For HSBC, the colour proved correct.
Companies now build their brands based on a specific colour. For HSBC, the red in question is Pantone 1795 which is not Campbell's Soup red or Coca-Cola red or even the red in the Canadian flag. It is a very precise shade of red. And since colour matters, any firm wanting to win contracts for graphic design, printing or media content for HSBC needs to mark that colour perfectly. Proving that point is how Chromalink got caught up in this story.
A couple of years ago, a Toronto firm working under contact with HSBC, produced and mounted a large wallwrap for Toronto's Pearson's Airport. The lengths and lengths of red plastic material went up and got torn down the same day. It was red but not the right red. The printing company had not properly calibrated its printers and the signature value of HSBC red had shifted to something of no value to the company. The contract was immediately cancelled with the Toronto company and the project was offered to the firm, Ampco Grafix, one of Vancouver's best sources for digital printing solutions.
Chromalink got involved at this point to ensure that Ampco could trust that the color values of their input devices perfectly matched the color values of their output devices. We call that colour confidence. Chromalink takes the guesswork out of printing colour and gives our clients the security they need to move forward with certainty. Ampco Grafix knew Chromalink's reputation for providing companies accurate colour representation across all input and output devices from scanners to monitors to printers. We're glad to say that Ampco aced the project and now has a regular client in HSBC. And that is money they can bank on.