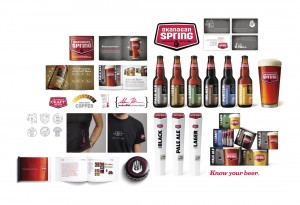 Colour Proofing – whether soft-proofing on a monitor or in-house hard-proofing to printed material – can be a high-stakes headache. Achieving colour accuracy and colour consistency is critical to the success of any design project. The expectations game played by a creative agency and its client is now often based on matching a colour proof to the final product no matter the substrate. Only a precisely- calibrated colour management system can make your colour proof a sure thing and not a risky gamble. As Vancouver's recognised leader in colour management consulting, Chromalink knows how the system of ICC profiling and monitor calibration can be made to play to your advantage. So that you bet on the winning colour every time.
The First Step, Soft-proofing
Soft-proofing, or monitor-proofing, is not only the first step in the proofing of deliverables it is also the most efficient. For creative agencies, Chromalink knows that an accurately colour-managed monitor at the source is critical. First off, it frees up their creative professionals to work with riskier colours trusting that what they see on their RGB monitor will colour match to the CMYK printed material. For example, fluorescents can be favoured without worrying that they will be printed at less than full force. But an accurate soft-proof with consistent and repeatable colours also saves time, money and allows everyone involved in the project to see exactly what they will get. So a predictable ICC monitor profile provides a digital master plan for every project.
Clients could care less about these technical specifications and just want to see what they will get. For them, a colour proof becomes a hard target that they expect you to match. Being able to show how a production file will reproduce as packaging or a billboard or a magazine ad without worrying that your colours are off. Chromalink helps creative agencies turn on the accuracy and repeatability of their colours which speeds up the creative process and keeps down costs. It's all a matter of the correct colour calculations. Chromalink makes a colour proof the first step in every success story.
Subplot Success Story with Colour Proofing
Chromalink's client Subplot Design is great at telling colourfully – designed stories. Based in Vancouver with international reach, Subplot is a leading brand-design firm that creates category-defining campaigns. Their design services range from brand identity programs to retail environments to product brochures and colour is at the heart of every conversation. Even their own brand colour – a pop shade of pink – stands out from the pack.
For Subplot, Chromalink selected its NEC PA301 monitors and provided monitor calibration and ICC profiling, as well as soft-proofing set-up and training. Chromalink also consulted on the selection of Subplot's Xerox DucuColor 242 printer (and provided expert calibration and ICC profiling as well) to maximise the potential of a precisely-calibrated colour managed workflow. Chromalink took away the anxiety in colour proofing so that Subplot can give their clients a trusted prediction of what the deliverables will look like in the end. Predicting colour is essential to the success – or failure – of a design project. As Matthew Clark, Subplot's Creative Director says, "The stakes are high"
The scope of Subplot's projects shows the enormity of the challenge. For its rebranding of Okanagan Springs Brewery, Subplot created production files based on various graphic design outputs for a wide range of different substrates. And the same colours needed to be consistent going from here to there. From lithography to laminated cardboard for 24 packs; from screen printing to metal bottle caps; from flexography onto aluminum for cans – colour must be consistent and predictable. And the colour proof sets the pace for everything that follows. As Clark warns, "the repercussions for error are massive".
Chromalink has made Subplot's colour proofs the gold standard. Now they can be trusted by everyone in the room – client, creative and printer alike. That's a big gain for the small charge of Chromalink's consulting services. Leaving nothing to chance, Clark says, "Chromalink was our lifesaver".
If you need your life saved – or simply your monitor properly calibrated for accurate soft-proofing – book your Chromalink Colour Management in-house consultation today.